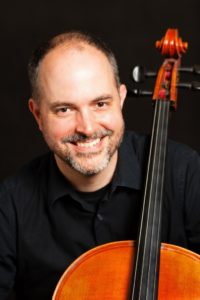 I bring over two decades of experience to my teaching. I offer cello lessons at my private studio in Crozet and Charlottesville, VA. I am also the cello instructor at Mary Baldwin University having previously taught as a Visiting Instructor at the University of Oklahoma, as a graduate assistant at Louisiana State University, and as an adjunct instructor at Randolph College, Sweet Briar College, and Lynchburg College. My principal teachers included Tsuyoshi Tsutsumi, Gordon Epperson, and Dennis Parker and I hold degrees from Indiana University and Louisiana State University.
Due to COVID-19, I am teaching primarily online with occasional outdoor, socially distanced "carport" lessons when weather permits. My top priority is health and safety. I'm encouraged by how well online lessons are going – please ask me about this!
Student Achievements
Membership/principal positions in Youth Orchestras of Central Virginia ensembles (Youth Symphony, Evans Orchestra, and Junior Strings) and the Lynchburg Symphony Youth Orchestra; membership in the Tulsa Youth Symphony Orchestra.
Junior and Senior Regional Orchestras for South Central Virginia, All-State orchestra in Oklahoma.
First prize and Honorable Mention in Wednesday Music Club competitions.
Students have gone on to major in music at Southern Methodist University, University of Tulsa, UNC-Greensboro, and UMKC Conservatory of Music. (Many others don't major in music but have it in their lives in other ways!)
While proud of my younger students' achievements, I am also a champion of the idea that music can be an enriching part of life at any level of study and no matter when it starts. I regularly coach a string ensemble at Crozet Arts that is primarily made up of adults who came to study string instruments later in life.
I strive to help any student find a path toward personal growth and joy in playing the cello through humor, appropriate goals, and the essential development of problem solving skills. Please contact me for information on my rates and availability.