Whether you're a parent of a young child interested in learning the flute, a highly motivated and serious flutist aiming for competitive auditions, a student wanting to feel more confident in band class, or an adult musician (at any level!), I would love to work with you! I welcome a broad range of students of varying ages and levels into my studio. I wouldn't have it any other way!
My job is to guide students on their musical journeys by figuring out how each student learns, helping them set appropriate goals, charting out a course to reach those goals and working to build their self-confidence. I also do my best to inspire them to share their music with others!
My hope is that students will take what they learn in lessons and use it to somehow make a difference in their lives and the lives of others, either by sharing their music within their communities as performers or teachers, or by becoming avid music and arts supporters. It's the ripple effect I'm after – I like to think I'm passing on both musical gems and valuable life lessons that I've learned from my mentors, colleagues and experiences. I hope these lessons keep rippling on!
"You create positive ripples into this world every time you offer a kind word, loving action, empowering insight or smile because whoever receives it passes it on to someone who then passes it on, who then passes it on, who then passes it on, who then passes it on, who then passes it on!" – Karen Salmansohn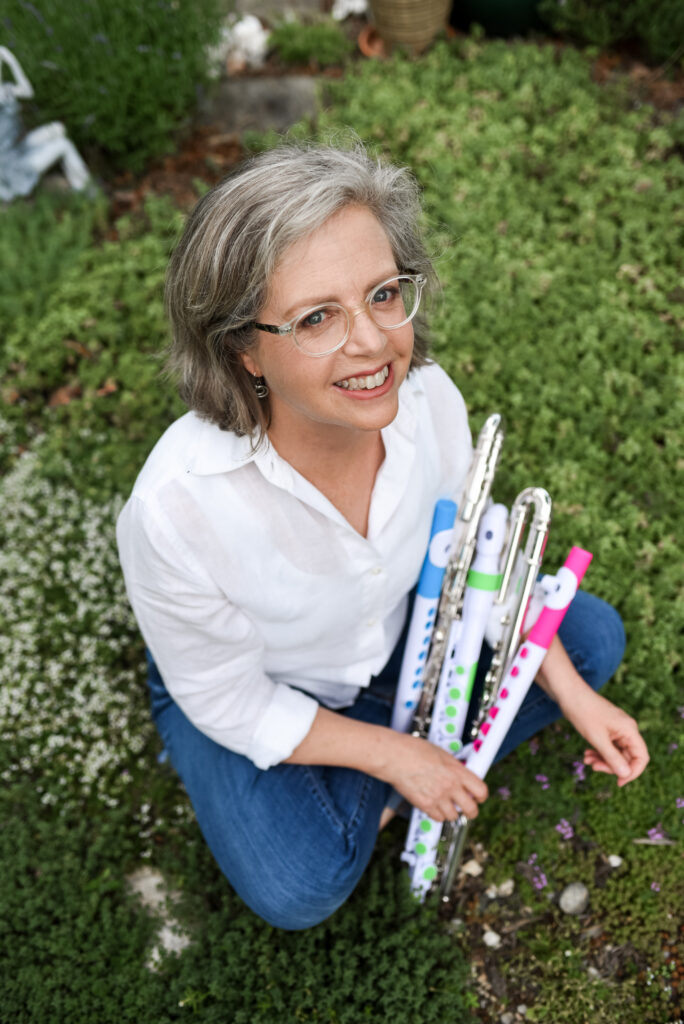 My teaching experience...
My approach...
What parents say...
My teaching experience...
I have taught all levels for over 25 years, from pre-school beginners to advanced college music majors. While I hold the Doctorate of Music in Flute Performance and Pedagogy (Indiana University), most of what I've learned comes from years of teaching experience in a variety of settings.
In the past decade I've delved into the area of early childhood flute instruction with training in the Suzuki Method (through Level 2) and Kinderflute, both methods that incorporate fun activities and encourage creativity and imagination in teaching. I am also a creative member of Flute Play, an international community of flute teachers who explore and share ways to incorporate play and games into children's flute lessons.
While I primarily teach private lessons I also teach a class at the Field School and frequently work with the flute sections in several area middle school bands. In addition to my flute teaching I have been a co-director of Crozet Arts' Twinkle Project, a spirited, colorful and creative interdisciplinary arts workshop for children. Teaching is an integral part of my life as an artist – I can't imagine my life without it!
Please check out my concert bio here.
My approach...
What parents say...