I have always seen my musical pursuits as a journey. Even after many years working as a professional flutist, I am still eager to continue learning both as a musician and teacher. I share my passion for music and learning with my students and hope it inspires them to become lifelong music lovers and learners as well!
Due to COVID-19, I am teaching primarily online with occasional outdoor, socially distanced "carport" lessons when weather permits. My top priority is health and safety. I'm encouraged by how well online lessons are going – please ask me about this!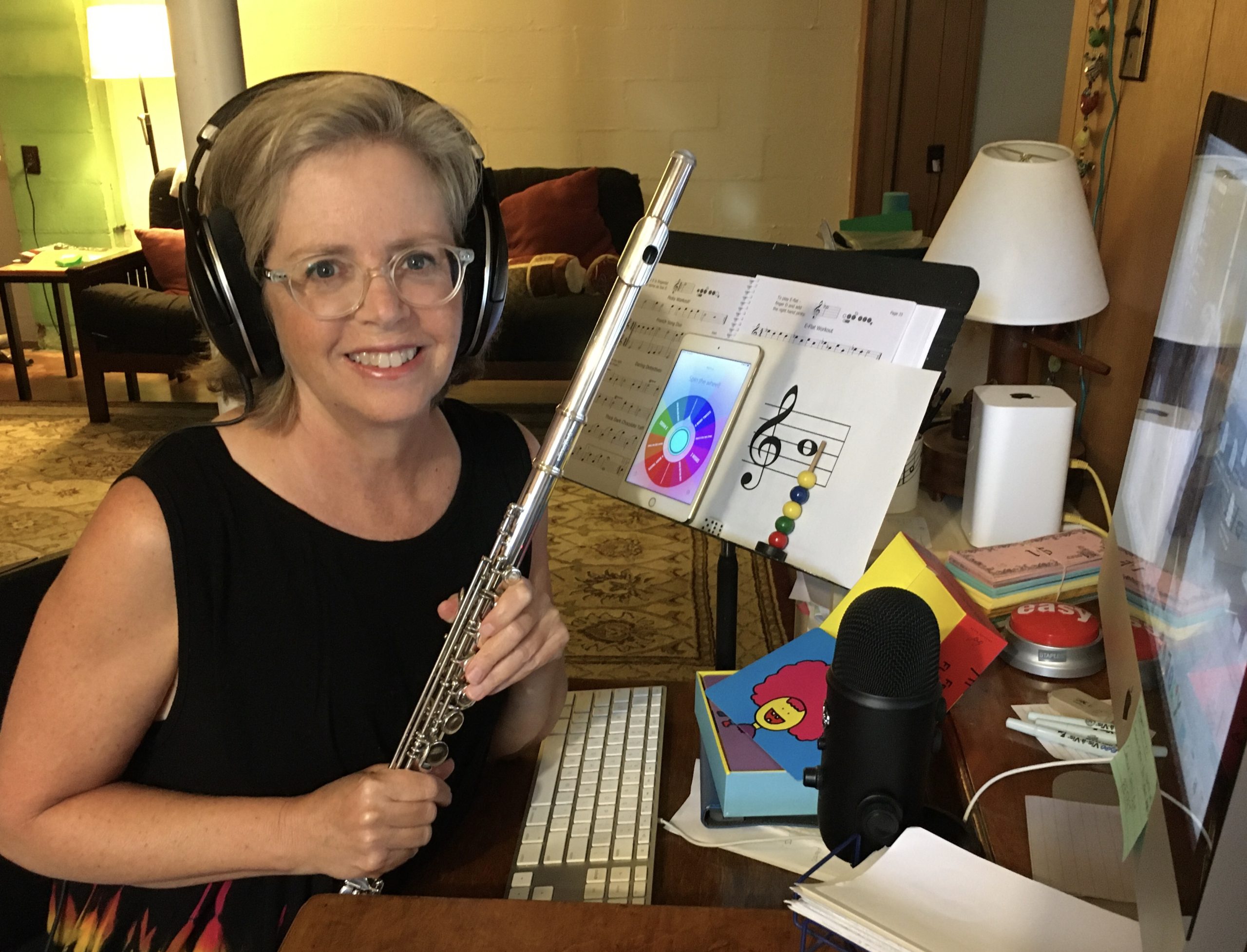 My teaching experience...
I enjoy teaching students of all ages, from four-year old preschoolers to enthusiastic middle and high school students, advanced music education majors at Longwood University, and adult beginners and amateur/semi-professional flutists. I have taught all levels for over 25 years.
In the past decade I've delved further into the area of early childhood flute instruction with training in the Suzuki Method (through Level 2) and Kathy Blocki's Kinderflute, both methods that incorporate fun activities and encourage creativity and imagination in teaching. I recently became a member of Flute Play, an international community of flute teachers who explore and share ways to incorporate play and games into children's flute lessons.
While I primarily teach private lessons I also frequently work with the flute sections in several area middle school bands. In addition to my flute teaching I have been a co-director of Crozet Arts' Twinkle Project, a spirited, colorful and creative interdisciplinary arts workshop for children. Teaching is an integral part of my life as an artist – I can't imagine my life without it!
Please check out my concert bio here.
My approach...
Whether I'm teaching in person or online I strive to create a warm environment where students feel safe to explore as they learn to play the flute and discover the joys of music. Individualized lessons focus on creating a beautiful sound, developing motor skills, finger facility and general flute technique, learning practice strategies, and building a solid understanding of rhythm and music theory fundamentals – all through various fun activities, music games, imaginative play, movement, songs, etudes and flute repertoire.
I encourage an inquisitive, experimental approach to problem solving because I believe this mindset will help students thrive in and beyond their musical studies. The connections made to what they've learned in school, the bursts of curiosity, the "ah-hahs!" and sparks of inspiration bring me great joy. So do unbridled squeals of delight from a child making a sound for the first time!
What parents say...
[…….] absolutely loves playing the flute. We talked about it last week, and she was horrified at the mere suggestion that she may want to stop or break for the fall. So, she's all in! Thank you for taking her on, even in this strange time. It's given her a lot of confidence in herself, which is something she's really needed these past few months. She's not always very demonstrative or emotive, but learning the flute has meant the world to her, so thank you so, so much.  – Parent e-mail, August 2020
She'd love to resume sessions with you. In her mind when we talked of it, there were no if, and's or but's about it… she HAD to keep playing flute. Thanks for fostering her love of music. – Parent e-mail, May 2020
Working with Elizabeth has been so good for my daughter. I prioritize music lessons because of the research on brain development, creativity, success in life, confidence.  I really wanted her to be musically literate. She has gotten so much more than that though, through her relationship with Elizabeth. I have seen such strides in her under Elizabeth: her confidence in herself, her poise, her sense of being likable (Elizabeth always makes her feel accepted), the lesson of improving through practice, her pride in her playing, her commitment to a learning path. The whole family is very proud of my daughter's progress in musical literacy and the increasing beauty of her performances. We are lucky to have a teacher of Elizabeth's caliber in Crozet.   – Parent testimonial, July 2019